Safety and housekeeping should go hand in hand, in every premise in Virginia be it commercial complexes or housing complexes. In buildings with poor maintenance the risk of injuries remains high. Buildings, homes, parking lots, and walkways in Virginia always have to ensure good housekeeping and remove hazardous conditions promptly. When you have physical injuries in any of the premises in Virginia, the person responsible for your injuries may be obligated to pay the compensation. It is always better to make sure you detect your degree of injury and to get advice about your accident and how to proceed further in Virginia. Step into The Law Offices Of SRIS, P.C. to plan, stay alert, and decide the right direction to move on.
Have you ever wondered as to what causes accidents inside housing and commercial premises? Walking surfaces account for a significant portion of injuries reported through slip and fall notifies our lawyer in Virginia. Cleaning up spills immediately can greatly reduce the possibility of a slip and fall. The property owners lack the general procedure for taking the appropriate action when someone causes or comes across a food or drink spill. This carelessness act leads to slip and fall of our client says our competent lawyer.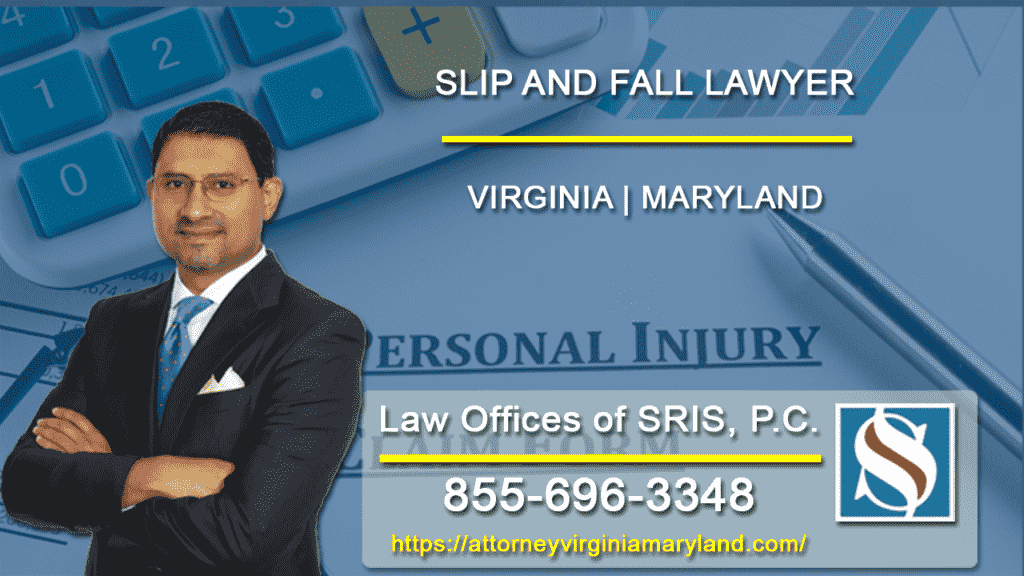 How Serious Can The Injury Be?
The extent of your injuries decides the outcome of your case! You should account for these negligent actions and hold them answerable for your slip and fall injuries. But our Virginia lawyer says that many of the people in Virginia are uncomfortable and want to run off the scene spot immediately. Instead of doing that, make sure you report the incident to the supervisor recommends our lawyer. Also, ask the supervisor for a copy of the incident report, so that it serves as apt evidence for your claim case in Virginia. A capable lawyer can help guide you through how to document your physical injuries effectively. A resourceful lawyer in Virginia is familiar with what a jury needs to see to order compensation for your injuries and suffering. Your lawyer would aggressively present evidence to win the deserved compensation.
You would have never thought a skid can cause the injury you have been caused! Every property owner in Virginia has to make sure 'Wet Floor' display boards are visible at appropriate places. But due to the negligence of the employees, the innocent victims of Virginia suffer severe injuries from slip and fall. Never say I am sorry after a slip and fall accident even though it might not be their direct accountability warns our lawyer. Signboards are precautionary signals to avoid drastic slip and fall accidents. If you suffer slip and fall injuries due to the inattention of owners; contact our lawyer immediately.
Be watchful with your steps as slip and fall injuries can also result from trips caused by obstacles, clutter, materials, and equipment in aisles, corridors, entranceways, and stairwells. These hazards pose a severe threat to individuals and paves way for slip and fall injuries. If you have your mobile phone with you, take pictures of the hazard that caused you to slip and fall. Take close-up snaps and photographs from further away to help prove your slip and fall case. Your lawyer in Virginia will recommend that you not post any details or pictures related to your incident on social media. Any comments on social media may negatively affect your slip and fall case. Your lawyer in Virginia can provide all means of support to recover your loss.
Poor Lighting Related Injuries
Everything within the property matters! The property owners in Virginia are also required to use proper illumination in walkways, staircases, ramps, hallways, basements, construction areas, and dock areas. Our lawyer confirms that poor lighting in these areas is associated with an increase in slip and fall accidents. Whatever be the cause of your slip and fall injuries in Virginia, it is always necessary to get in touch with a lawyer to act fast, otherwise, you might lose your chance to receive justice and compensation.
It is too dangerous as the traction on outdoor surfaces can change considerably when weather conditions change, say Virginia lawyers. When snow and ice are present, it is the responsibility of the property owners in Virginia to remove or treat these elements effectively. But certain property owners in Virginia do not monitor them efficiently and cause slips and fall injuries to their visitors. Our lawyer notifies that in some extreme cases, it may be necessary to suspend use of the area; which could prevent people from brutal slip and fall accidents. If there were people around when you fell, our lawyer recommends that you ask them for their contact information in case they need to make a statement to help you prove your injury claim in Virginia.
Do not overlook your pain cautions our lawyer. If you are critically injured through a slip and fall accident, get help from the medical team. If you have some minor injuries, it is still necessary to go to the hospital to receive a medical examination. Your lawyer in Virginia also advises that you do not skip doctor's schedule or therapy sessions as the insurance company will be looking at everything you do following a slip and fall accident to show that you are not as badly injured as you say you are. Your lawyer in Virginia also instructs that if you fail to follow your doctor's orders or skip out on schedule, the insurer may use this to lower your claim amount. Doing so may be destructive to your slip and fall case warns our eminent lawyer.
Our lawyer knows the value of your slip and fall case and will fight to get you fair compensation in Virginia. The most significant part of any of your slip and fall cases in Virginia is to turn down any proposals meted out by an insurer until you have spoken to your lawyer.
Contact our lawyers at The Law Offices Of SRIS, P.C. to file a winning slip and fall claim.